The Famous old Chowdeshwari temple located at Dasarighatta, Tiptur Taluk Tumkur district, Karnataka. A panchaloha idol in Sri Chowdeshwari temple, which writebacks the reply if a question is asked orally or even in mind.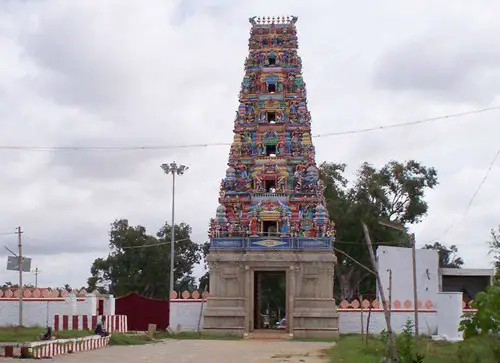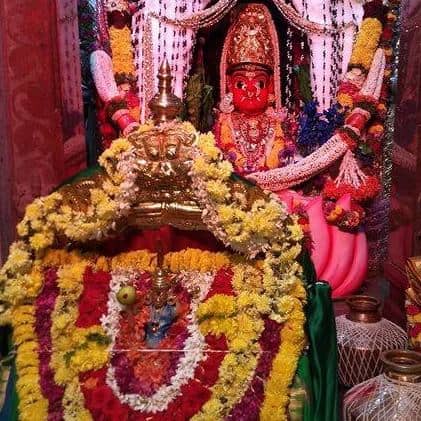 You need to buy a ticket for each question you ask. They will charge you around 100 RS for one person, or family you can ask 3-4 questions. Two people can sit in-front of goddesses chowdeshwari to ask questions, During gathering two illiterate people pick up the diety which has the kalsha on the top (pointer) and once the question is asked the head of the diety write effortlessly on the rice flour base.The question can be asked in any language- Kannada, Hindi, English, Konkani,Telugu etc. The head of the deity writes down the answers in the Kannada language.
The main priest of the temple "Prabhulinga Swamigalu" had done it once, said it was an unforgettable experience to write under the influence of goddesses.
How to reach tiptur chowdeshwari temple ?
chowdeshwari temple is located in Dasarighatta , Tiptur. To reach Tiptur there are plenty of busses (KSRTC) / trains available from Tumkur or bangalore. Dasarighatta  is around 10 kms from tiptur. Its 5 kms from tiptur railway station.  From Bus stand, Auto driver will charge Rs 100/- for one way. Also city buses are available to reach Dasarighatta .
If you are coming by private vehicle i am sharing map it will help.
Tiptur Chowdeshwari Temple Address
Chowdeshwari Temple
Dasarighatta Near Tiptur
Tumkur District
contact No:08134-259522
Chowdeshwari Temple Tiptur Timings
Week Days & Week ends(Except Tuesday): 9 a.m. to 9 p.m
Tuesday :9 a.m to 9.30 a.m & 12 p.m to 9 p.m
Chowdeshwari Temple Tiptur Special Sevas
Every Tuesday – Special Pooja.
Vishesha Pooja -NavaRaathri Pooja during navaraathri.
Chowdeshwari Devi Utsava on specific festival days i.e. during Ayudha Pooja & Chowdeshwari Devi Fair.
Conclusion
After visiting temple i felt very good, if you visit / visited this temple before please let me know in comments.